BANGKOK, Oct 25, 2012 - (ACN Newswire) -

The Asian Forum for Corporate Social Responsibility (AFCSR) 2012 formally opened today at the Shangri-La Hotel, Bangkok, Thailand. Co-hosted by the Asian Institute of Management - Ramon V. del Rosario, Sr. Center for Corporate Social Responsibility (AIM-RVR CSR Center) and Intel Corporation, the forum has received over 500 delegates from business, government, the academe, civil society, multilateral organizations, and media throughout Asia.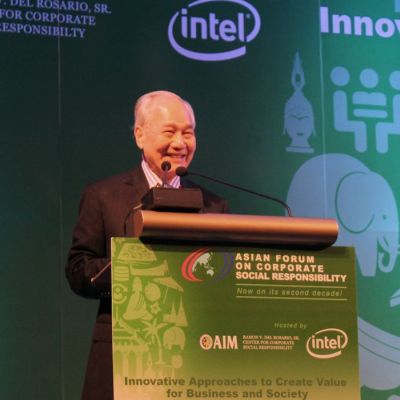 AFCSR 2012 Opens in Bangkok, Highlights Innovations to Create Significant Impacts for Businesses and Societies across Asia


This year's forum has the theme, "Innovative Approaches to Create Value for Business and Society," this year's AFCSR provides the guiding framework for managers and executives to implement corporate social responsibility (CSR) projects that would create value for a company's internal and external stakeholders.

"Through the years, we've observed that innovations have been applied to companies' CSR strategies, with many of these innovations focusing on products and technologies that would benefit rural poor communities," notes Prof. Felipe B. Alfonso, Conference Director of the AFCSR 2012. "We need to also focus on how we could innovate supply chain processes and promote greater engagement among all our stakeholders, in order to energize the organization and promote goodwill among all those concerned."

"Improving supply chain processes reduces waste and improves the quality of products, apart from boosting the growth of small and medium enterprises," he continues. "Meanwhile, engaging multiple stakeholders allow us to forge and enhance partnerships, including developing joint programs that would allow us to build shared value."

"What sets the AFCSR apart from other similar initiatives is that the discussions are founded on a robust academic framework, with like-minded practitioners regularly coming together to find ways in which we could scale up and replicate impactful projects for stakeholders," Alfonso adds.

The event was graced by H.E. Anand Panyarachun, former Prime Minister of Thailand and Chairman of the Board of Siam Commercial Bank. In his speech, Khun Anand remarked on the increased importance of CSR, as a result of incidences such as the 1997 financial crisis, the 2007 global economic crisis, and the Occupy Wall Street movement.

"Today's consumers are demanding that companies consider their impact on society as much as their own business interests," he remarks. "We are now living in a world that knows no borders. As we become even more connected, we can see that globalization is having a profound impact on corporate social responsibility."

Khun Anand also shared the experience of Thailand in CSR. "We can proudly call ourselves a developed middle-income developing economy, and we can arguably serve as a model for aspiring economies in the Greater Mekong Subregion and beyond," he says. "With respect to CSR, Thailand is not immune to rising expectations and the need to be even more socially conscious and civic-minded. The new generation of employees expects their employers to address social and environmental issues - to be responsible corporate citizens, to use renewable energy, and even to offer a lifestyle in terms of working hours and income to meet family needs and increasing consumption."

AFCSR 2012 also makes available the AIM RVR CSR Center's latest researches and publications, including: the second edition of the Center's manual for practitioners, "Towards Strategic CSR; Aligning CSR with the Business and Embedding CSR into the Organization"; "Corporate Social Responsibility in Mining for APEC Economies", a trainers' guidebook; "Strategic Corporate Social Responsibility Initiatives for Large Firms", a study commissioned by GIZ, Germany's Federal Ministry for Economic Cooperation and Development, and the Philippines' Department of Trade and Industry; research reports entitled, "Corporate Social Responsibility in Southeast Asia: An Eight Country Analysis" and "Exploring Strategic CSR: Sustaining and Strengthening Corporate Social Responsibility"; and the Center's latest research outputs, the occasional papers entitled, "Developing an Integrated BOP Strategy" and "Social Innovation: Business Invention and Social Solutions".

For Dr. Steven J. DeKrey, President of the Asian Institute of Management (AIM), the AFCSR dovetails into AIM's mission of developing leaders and managers that would serve as Asia's source of global talent, insight, and wisdom. "AIM has consistently built the managerial skills needed for both the business and the development sectors. The imperative in this decade is to combine the skill sets, so that managers in Asia can resolve issues and address opportunities in both sectors. AIM managers now and in the future will seamlessly straddle both the private and public sectors and quickly address the needs of both stakeholders," he says.

"Another imperative in this decade is to fill the gap for responsible managers, who are both ethically aware and environmentally conscious," he continues. "CSR bridges this need, and the AIM-RVR CSR Center can provide value-adding thought leadership that will help to build the next generation of managers."

As the research center at the forefront of CSR, the AIM-RVR CSR Center provides tools and resources to aid practitioners in going beyond the sharing of best practices, implementing incremental improvements, operating business as usual, and exploring sustainability. AFCSR is just one way for the research center to demonstrate its thought leadership. AIM-RVR CSR Center also engages in Executive Conversations in CSR and recognizes companies that have implemented strategic CSR initiatives through the Asian CSR Awards.

"We've been working to advocate for CSR to be strategic and embedded in a company's operations and values," shares Alfonso. "We have seen how it has evolved through the years, gaining widespread acceptance among companies, and we're now looking forward in elevating the practice of CSR, in order to create lasting and sustainable positive impacts for communities throughout Asia."

About AIM

AIM is the Asian pioneer in international management education. Established in 1968 with the Harvard Business School, Asian academicians, and prominent business leaders, the institute designs its masters and executive programs to develop practicing managers in Asia's emerging markets. With 39,000 alumni, AIM has clientele and alumni worldwide and meets the global accreditation standards of the US-based Association to Advance Collegiate Schools of Business (AACSB). AIM offers three degree programs - the Master in Business Administration (both full time and executive), a Master in Management and a Master in Development Management. The institute is also well known for open enrolment and custom executive programs for business and non-business organizations.

About the AIM-RVR CSR Center

The Asian Institute of Management - Ramon V. del Rosario, Sr. Center for Corporate Responsibility is a research and program center within AIM. Its main task is the management of corporate citizenship relative to the competitiveness of firms and its impact on society, including the provision of tools that would enable companies to develop, manage, and evaluate CSR programs that create significant impacts for its stakeholders.

The Center is engaged in case writing and research, program development and executive education and training. A regional annual Asian Forum on Corporate Social Responsibility is programmed every year. The Center also provides consultancy services in a range of Corporate Social Responsibility areas as an integral part of its mission. These services are available to corporations throughout Asia.

Among its research and resources are the following: The CSR Manual: Embedding CSR; Role Models and Benchmarks: A Database of CSR Award-Nominated Projects; CSR in Mining; Engaging the Bottom of the Pyramid; The State of CSR in the Philippines and other countries in the region; and Social Innovation.

The Center is named after Ambassador Ramon V. del Rosario, Sr., founding trustee of the Asian Institute of Management and founder and Chairman of The PHINMA Group in the Philippines.

Contact:

Dayen Tecson
Conference Manager
Asian Forum on Corporate Social Responsibility (AFCSR) 2012
Tel: +63-2-892-4011 Ext. 2108
Email: dtecson@aim.edu

Mika Palileo
Ogilvy Public Relations Manila
+632 238 7000 loc. 7052
mika.palileo@ogilvy.com

Topic: Trade Show or Conference

Source: Asian Forum on Corporate Social Responsibility (AFCSR)
Sectors: Daily Finance
https://www.acnnewswire.com
From the Asia Corporate News Network
Copyright © 2023 ACN Newswire. All rights reserved. A division of Asia Corporate News Network.