| | |
| --- | --- |
| Tuesday, 5 February 2013, 11:00 HKT/SGT | |


Source: JCB



MANILA, Philippines, and TOKYO, Japan, Feb 5, 2013 - (ACN Newswire) -

PVB Card Corporation (PVBCC) and JCB International Co, Ltd., the international operations subsidiary of JCB who is the only global payment brand based in Japan, in partnership with the City Government of Bacoor announce the launch of its first prepaid card coupled with City identification card. With an initial issuance of 500,000 cards, the "PVBCC-JCB SBR (Special Bacoor Resident) Card" is designed specifically for the residents, employees, officials and senior citizens of the City with many services and special benefits in the Philippines.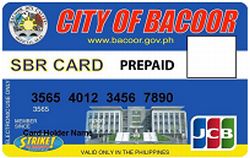 PVBCC and JCB in Sponsorship with Local City Government of Bacoor Launch PVBCC-JCB SBR Card in the Philippines


The main feature of the PVBCC-JCB SBR Card is identification. Cardmembers can use their cards for identification as a constituent of the city: whether resident, employee, official, senior citizen, etcetera, and also can use their cards to pay at any merchants where JCB is accepted and access to all ATMs for cash disbursement in the Philippines.

The PVBCC-JCB SBR Card supports specific benefits provided by the City Government of Bacoor such as scholar, medical, senior citizen, disaster-related assistance, and etcetera. Cardmembers can also enjoy discounts and other special offers at various merchant establishments affiliated by the City Government of Bacoor when paying with the card.

PVBCC and JCB will continue to work together to provide high quality services to meet the diverse needs and progressive lifestyles of Filipino customers.


About PVB Card Corporation

PVB Card Corporation headquartered in Makati City, Philippines, provides customized card issuing and acquiring programs. PVBCC's strategy enables it to offer flexible and innovative card solutions designed to suit its clients' unique requirements. PVBCC provides competitive prepaid card solutions for wide variety of organizations including but not limited to government entities and remittance companies. For more information, please visit: www.pvbcard.com .

About City Government of Bacoor

City Government of Bacoor is the gateway to the province of Cavite. Bacoor is the first capital of the Revolutionary Government under General Emilio Aguinaldo. The current city mayor is the Honorable Strike B. Revilla. The city is subdivided into 73 barangays and with a population of 520,216. For more information, please visit: www.bacoor.gov.ph

About JCB

JCB is a major global payment brand and a leading credit card issuer and acquirer in Japan. JCB launched its card business in Japan in 1961 and began expanding worldwide in 1981. Its acceptance network includes over 23 million merchants and over a million cash advance locations in 190 countries and territories. JCB cards are now issued in 15 countries and territories, with more than 78 million cardmembers. As part of its international growth strategy, JCB has formed alliances with more than 350 leading banks and financial institutions globally to increase merchant coverage and cardmember base. As a comprehensive payment solution provider, JCB commits to provide responsive and high-quality service and products to all customers worldwide. For more information, visit: www.jcbcorporate.com/english .

Note: JCB statistics included in About JCB are as of the end of September 2012.


For more information, please contact:

Mr. Jorge Benjamin Oca
Marketing Department
PVBC Card Corporation
Tel: + 63-2-884-1793
Cell: +63-917-562-8637
Email:jbfocajr@pvbcc.com

Ms. Ayako Tanaka, Mr. Masayasu Okada
Corporate Planning Dept.
JCB International Co., Ltd.
Tel: +81-3-5778 8390
Email: ayako.tanaka@jcb.co.jp , masayasu.okada@jcb.co.jp

Topic: Business Tieup
Source: JCB
Sectors: Cards & Payments, Daily Finance, Daily News
https://www.acnnewswire.com
From the Asia Corporate News Network



Copyright © 2023 ACN Newswire. All rights reserved. A division of Asia Corporate News Network.

JCB Related News
Wednesday, 1 March 2023, 12:00 JST
JCB enables contactless payment acceptance at Red Lines in Bangkok
Wednesday, 22 February 2023, 12:00 JST
JCB Offers 4 Complimentary Months of an Adobe Creative Cloud Subscription
Monday, 13 February 2023, 16:00 JST
JCB Reaches One Million RuPay JCB Card Issuance Mark in India
Monday, 6 February 2023, 12:00 JST
JCB and Vietnam Prosperity Joint Stock Commercial Bank launch VPBank JCB Credit Card with a focus on Generation Z in Viet Nam
Monday, 23 January 2023, 15:00 JST
NBB and JCB Enable the Acceptance of JCB Cards Through its POS & E-Commerce Merchants in The Kingdom of Bahrain
More news >>