JAKARTA, INDONESIA, July 2, 2013 - (ACN Newswire) -

Gaikindo (The Association of Indonesia Automotive Industry) is busy firming preparations for the Indonesia International Motor Show (IIMS) 2013, to be held for 11 days from 19 - 29 September, with a theme of "Smart Vehicle Mobility". Collaborating with organizer Dyandra Promosindo, the Committee is engaged in carrying out a number of improvements for a better and more dynamic exhibition this year.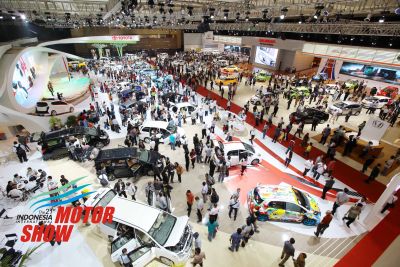 21st Indonesia International Motor Show (IIMS) to Promote 'Smart' Strategy, Optimize Visitor Experience


"IIMS is the benchmark for the country's automotive industry. Therefore, Gaikindo hopes the exhibition can be organized to show the world how advanced our automotive industry is," said Sudirman MR, Chairman of Gaikindo during the first IIMS press conference (25/04) in Jakarta.

"The opening of several sole agents' (APM) new plants, such as Nissan, Honda, and Daihatsu, also serves as a positive indicator in the development of the industry in Indonesia. We hope these positive events will be reflected in this year's IIMS," said Sudirman.

Enthusiasm for IIMS 2013 has intensified through the public's positive response to the affordable and environmentally friendly vehicles program, or the Low Cost and Green Car (LCGC) program, being featured under the theme "Smart Vehicle Mobility" this year.

The thirst to bring a more impressive IIMS 2013 gains full support from the APMs who are participating. A total of 37 APMs will join the exhibition, consisting of 28 brands of passenger cars including Audi, BMW, Chevrolet, Chrysler, Dodge, Daihatsu, Datsun, Ford, Honda, Hyundai, Jaguar, Jeep, KIA, Landrover, Mazda, Mercedes-Benz, Mini, Mitsubishi Motors, Nissan, Peugeot, Proton, Renault, Smart, Subaru, Suzuki, Tata Motors, Toyota, and VW. 9 commercial vehicle brands will join this year's IIMS, including Dyna, FAW, Foton, Fuso, Hino, Isuzu, MAN Trucks, Tata Motors, and UD Trucks.

"Support for organizing the IIMS is not only coming from APM companies who are members of Gaikindo, but from support industries as well," said Johnny Darmawan, Chairman of the Committee of IIMS 2013, encouraging the Committee to accommodate demand by increasing the width of the semi-permanent area, for example.

This year's IIMS will maximize the use of the exhibition area by occupying 75% of JIExpo land, equal to 75,101 square meters, more than 10,000 of which will be used for a semi-permanent area, bringing an addition of two areas. In total, there will be 5 semi-permanent halls for the support industries in this year's exhibition.

Smart Vehicle Mobility for All

This year's theme "Smart Vehicle Mobility" proves the country's automotive consistency in demonstrating its concern and playing an active role in promoting the spirit of energy efficiency in Indonesia. Smart Vehicle Mobility is the introduction of a transportation system that has efficiency standards, reduces fuel intake and lessens excessive emission. Through energy efficient and clean energy technology, Indonesia will be able to build mobility systems of the future.

Through the theme, the automotive industry wants to drive the development of smart mobility behavior that not only considers visual comfort and economic affordability but also presents reliable energy efficient technologies that are able to significantly reduce emissions.

The government and the automotive industry are introducing a number of programs; one of them is the Low Cost Green Car (LCGC) program. Gaining full support from automotive brands and major players of the country's automotive industry, the program's objective is to drive the development of vehicles with fuel efficient technology, while remaining affordable for the Indonesian public. The LCGC program with its efficient, clean, and environmentally friendly technology and affordable prices is the perfect illustration of "Smart Vehicle Mobility" as presented by IIMS 2013.

Optimizing Visitor Comfort

The increasing width of the exhibition area and the growing public enthusiasm to come to the exhibition has lead the committee to prioritize visitor comfort while they are in the exhibition area. This year, the committee provided 6 entrance gates so that visitors can have shorter access to the exhibition area. And to provide more comfort for visitors wanting to explore the semi-permanent areas, the committee arranged 9 entrance/exit gates with 8 connecting doors that connect one semi-permanent hall to the others.

The committee has also prepared a number of support facilities for visitors such as free shuttle busses and extended parking lots, and a medic room, nursery room, ATM Center at the Trade Center Building, charging corner, smoking area and Press Room that is set up for journalists registered on the IIMS 2013 media list. For visitors that come with their family, the committee has prepared a special room, The Kids Corner, and also a stroller rental facility all of which can be enjoyed for free.

The committee is targeting that in the 11 days of the exhibition it will attract 380 thousand visitors. To enliven the show, IIMS has prepared a number of supporting agendas with educational contents for visitors such as The 8th Indonesia International Automotive Conference, a challenging program of Test Drive and Stunt Show, as well as its routine programs such as Miss Motor Show 2013, Favorite Car Competition by visitors, Favorite Stand Competition by visitors, and The Ultimate Car Collection.

The latest program prepared by the committee to rush the adrenaline is the Gymkana Race War, a motorsport that demand the driver's highest concentration to control the maneuvers in a complex track while driving the car in high speed. The program will demonstrate the driver's supreme skill in reversing, spinning 180 and 360 degree, parking box, the 8 figure, and other complicated skills.

"We hope this year's IIMS, which once again will be displaying dozens of famous brands and hundreds of supporting industry items, with improved facilities will be able to optimize visitors' comfort. We are optimistic that this year's exhibition will draw more visitors than ever," said Johnny Darmawan.

Social Commitment

This year's Social Commitment by the IIMS will again carry out through various social programs such as the IIMS 2013 Student Visit to Assembly Plant and National Student Visit (Kunjungan Pelajar Nusantara), in which students who are excel in automotive study from various regions in the country will be invited to attend and feel the euphoria of auto industry development depicted in the IIMS 2013 exhibition.

"IIMS 2013 hopes to continue to provide the path for Indonesian students to witness and learn firsthand about the development of the country's automotive industry, and one of the ways is through student visits to a number of APM plants and a visit to the exhibition for students who can excel in automotive study," said Johnny.

Contact:

Dyandra Promosindo	
Diah Putri
Phone: +6221 31996077 ext. 334
Fax: +6221 31996177/6277
Mobile: +62812 100 3083
E-mail: diahputri@dyandra.com 
Website: www.indonesianmotorshow.com

Topic: Trade Show or Conference

Source: 21st Indonesia International Motor Show (IIMS)
Sectors: Automotive
https://www.acnnewswire.com
From the Asia Corporate News Network
Copyright © 2022 ACN Newswire. All rights reserved. A division of Asia Corporate News Network.