MANILA, Oct 4, 2013 - (ACN Newswire) -

Companies from Indonesia, India, and the Philippines that have successfully integrated sustainability in their business operations were recognized during the gala dinner of the 2013 Asian CSR Awards held last September 24, 2013 at the Grand Hyatt Hotel, Nusa Dua, Bali, Indonesia.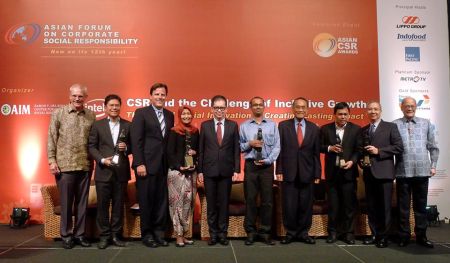 Companies that Integrate Sustainability in Business Operations Recognized at the 2013 Asian CSR Awards


The Asian CSR Awards program is presented by the Asian Institute of Management - Ramon V. del Rosario, Sr. Center for Corporate Social Responsibility (AIM RVR CSR Center). The awards recognize Asian companies for embodying the principles of corporate responsibility in their business philosophy and operations.

"It is the Center's belief that CSR can only be truly sustainable when it is integrated into the company's business model and is regarded as fundamental to strategy," explains Dr. Francisco L. Roman, Executive Director of the AIM RVR CSR Center. "These awards recognize companies to provide best practices for others in the region to scale or replicate. The awardees continuously innovate and implement sustainable approaches toward becoming socially responsible."

The Asian CSR Awards have four focus areas: Environment and Value Chain Management; Governance and Society; Labor and Employee Engagement; and Product Responsibility and Consumer Rights.

The grand prize of the AIM Asian CSR Awards is the Intel-AIM Corporate Responsibility Award (IACRA), given to an organization that has taken on a fully embedded approach to CSR across all four focus areas. The award is a testament to the advocacy of both the AIM RVR CSR Center and Intel Corporation in promoting CSR and social innovation.

For AIM President Dr. Steven J. DeKrey, the Asian CSR Awards represent the great strides that businesses have made in helping address the needs of Asia. "Asia is changing rapidly, and we need our leaders and managers in business to be responsive and progressive in playing a role to sustain the region's economic gains and bring about inclusive development."

The 2013 Asian CSR Awards winners are:

I. Environment and Value Chain Management: Smart Communications, Inc. (Philippines)

Smart Communications designed a value chain with innovative and unique programs, finding new ways to win and engage its customers and instil a culture that encourages their employees to be involved in formulating programs that creates shared value. Smart Communications was awarded for its Green Merchandising program, which recycles and re-purposes eco-friendly materials for outdoor and in-store advertising and merchandising to provide livelihood opportunities in a partner community in Iloilo.

II. Governance and Society: Ultratech Cement Limited (India)

Ultratech Cement Limited utilizes its core competence for economic development. One example of this is their innovative use of Birla White cement applicators, which have generated small businesses as a result of the company's investment in skills development and training. Ultratech collaborates with different organizations to implement their projects, placing a special focus on women empowerment and improving the overall quality of life.

III. Labor and Employee Engagement: Magsaysay Maritime Corporation (Philippines)

Magsaysay Maritime Corporation prioritizes the development of workplace conditions, improving its safety and enhancing the overall quality of its employees. The company's core values of integrity, accountability, enthusiasm, and "We Care" are reflected in everything it does. "We Care" is particularly reflected in the company's commitment to training, innovation, and communication. This has touched the lives of Magsaysay Maritime Corporation's 45,000 employees and their families, as well as communities and operations in the Philippines, Indonesia, China, Japan, Eastern Europe, and Latin America.

IV. Product Responsibility and Consumer Rights: Manila North Tollways (Philippines)

Manila North Tollways places a premium on customer equity and road safety. Safety and convenience are embedded in their operations, beginning with the design of the North Luzon Expressway (NLEX). Their program includes consultations with the community, roadside service including free communication, an avenue for customer complaints, and regular monitoring. Manila North Tollways listens to its customers and feedback is integrated in enhancing their operations. Not only does the company listen to users of NLEX, but it also closely works with the government and the communities along this major highway. As a result, NLEX has become a standard for how a world-class highway should be.

V. Intel-AIM Corporate Responsibility Award 2013: PT Unilever Indonesia (Indonesia)

PT Unilever Indonesia's CSR programs begin with a strategic vision: to double the business by 2020, at the same time reduce environmental impact and improve livelihood. Each business function implements the principles of care for people, economic improvement, and environmental protection throughout the value chain. Unilever engaged with more than 24,000 farmers who produce black soya bean and coconut sugars, implementing sustainable agriculture practices. It has also worked with over 1,500 women farmers, engaging them in post-harvest processes and creating a home industry for additional family income. Its manufacturing operations have been recognized by Indonesia's Ministry of Environment for its adherence to environmental and safety standards.

To lessen environmental impact, emissions and water consumption were reduced by 30-40% and efforts to reduce post-consumer wastes from packaging were put in place. Unilever started educating households on the segregation of domestic waste. They have also developed a communal waste bank, where communities create cooperatives to collect and manage dry waste. More than 2,000 communal waste banks have been created throughout Indonesia.

Unilever is also working to change the healthy living paradigm in Indonesia, with an integrated program to promote the washing hands and the brushing teeth, dramatically reducing incidences of infant death and diarrhea among schoolchildren, keeping them in school.

Contact:

Mika Palileo / Lu-Ann Fuentes
Ogilvy Public Relations Manila
mika.palileo@ogilvy.com / lu-ann.fuentes@ogilvy.com

Topic: Awards

Source: Asian Forum on Corporate Social Responsibility (AFCSR)
Sectors: CSR, Environment
https://www.acnnewswire.com
From the Asia Corporate News Network
Copyright © 2022 ACN Newswire. All rights reserved. A division of Asia Corporate News Network.