| | |
| --- | --- |
| Tuesday, 18 March 2014, 09:30 HKT/SGT | |


Source: A*STAR
First win for Singapore in annual GE Healthcare Life Sciences cell imaging competition



SINGAPORE, Mar 18, 2014 - (ACN Newswire) -

Drs Graham Wright and Henning Horn from A*STAR's Institute of Medical Biology (IMB) are the Asia-Pacific winners in the microscopy category at the 2013 GE Cell imaging competition. With over 23,000 votes cast by scientists and the public, the winners can now look forward to seeing their prize-winning images illuminate Times Square, New York between 25 and 27 April 2014.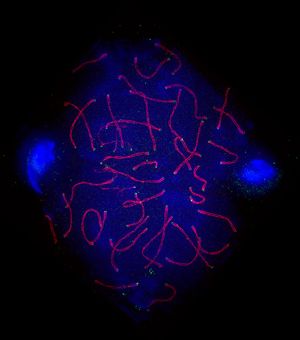 Microscopic Revelations Make it Big Time: A*STAR Scientists' Prize-Winning Image to Light up Times Square, New York


For seven years, GE Healthcare - a leader in providing transformational medical technologies and services for more affordable healthcare around the world - has organised an annual competition showcasing the beauty of cells and the inspiring research of cellular biologists from around the world. This year's competition attracted over 100 entries from scientists all over the world who are using either high-content analysis or high- and super resolution microscopy to investigate at the cellular level a wide variety of diseases such as cancer, muscle disease and the effects of parasitic infections.

A panel of six scientific experts shortlisted 30 finalists, after which voting was open to the public. A*STAR's scientists are one of three winners in the competition this year (see Annex A for details of winners). Their winning image showcases a developing mouse sperm cell that has been stained for two proteins - KASH5 and SCP3. The teams under Dr Colin Stewart and Dr Brian Burke at IMB have determined that the nuclear envelope protein KASH5 is important for chromosome movement during meiosis[2]. "This chromosome movement is essential for the maturation of sperm and eggs, and without it, individuals are sterile. Besides understanding the role of KASH5, this finding also helps to gain greater insight into the process of meiosis, which may have potential implications for our understanding of infertility," said Dr Horn.

"We are thrilled that our scientists have won this award. This image is truly pioneering; to see biology at this level of detail is mind-opening and awe-inspiring in its beauty. Research at A*STAR's IMB is driven by our desire to understand disease and improve wellbeing, and many new discoveries are first seen as microscopy images, so images like this also represent important scientific progress," said Prof Birgit Lane, Executive Director of IMB, A*STAR.

With the increased resolution of this image, the team was able to definitively identify the pairing of chromosomes. Paired chromosomes (paired red lines in the image) are not resolved by conventional light microscopy techniques, and being able to determine whether chromosomes are paired or not is critical for understanding the function of KASH5 in meiosis.

Dr Wright said, "This image was particularly striking when we captured it - the orientation of the proteins we were studying and the two sperm cells stained in blue on both sides made it beautiful. We spent a good session consistently producing high quality images, but this one stood out due to the way the chromosomes were organised. It is a great honour to have our image screened at Times Square, New York."

While the research carried out at IMB varies in its subject matter, microscopy is usually used to visualise and analyse the way proteins, cells and tissues are organised and how they behave. The use of fluorescent dyes enables the imaging of the proteins to determine what they do over time. This provides insight into the function of a protein, and how this function goes wrong in diseases studied at IMB.

Leading the Microscopy Unit at IMB, Dr Wright is involved in the teaching and training of researchers in how to apply advanced microscopy techniques to their research. "Personally, my aim is to ensure the most appropriate microscopy techniques are applied to the best of their ability by the researchers in our institute - we're lucky to have a fantastic infrastructure of cutting-edge imaging equipment here so we want to make the most of it," said Dr Wright.

Image caption: Mouse spermatocyte[1] stained for two proteins - KASH-5 (red) and SCP3 (green) - and DNA (blue) illuminates understanding on fertility

[1] A male sperm cell in its developmental stage, during which meiosis occurs
[2] A type of cell division necessary for sexual reproduction to occur in animals, plants and fungi

Please see the full press release, with Annexes, at http://bit.ly/1qNvLtD.

About the Institute of Medical Biology (IMB)

IMB is one of the Biomedical Sciences Institutes of the Agency for Science, Technology and Research (A*STAR). It was formed in 2007, with a mission to study mechanisms of human disease in order to discover new and effective therapeutic strategies for improved quality of life.

IMB has 20 research teams working in three primary focus areas - skin biology, genetic disease and stem cells. The teams work closely with clinical collaborators as well as industry partners, to target the challenging interface between basic science and clinical medicine. IMB's strategic research topics are targeted at translational research to understand the mechanisms of human disease so as to identify new strategies for disease amelioration, cure and eradication and to improve health and wellbeing. Since 2011, IMB has also hosted the inter-research institute Skin Biology Cluster platform, and leads major strategic funding programs in rare genetic diseases and in skin biology. In 2013 IMB became a founding institute of the Skin Research Institute of Singapore. For more information on IMB, please visit www.imb.a-star.edu.sg.

Contact:

Vithya Selvam (Ms)
Senior Officer, Corporate Communications 
Agency for Science, Technology and Research
Tel: +65 6826 6291
Email: vithya_selvam@a-star.edu.sg

Topic: Research and development

Source: A*STAR
Sectors: Science & Research, BioTech
https://www.acnnewswire.com
From the Asia Corporate News Network
Copyright © 2022 ACN Newswire. All rights reserved. A division of Asia Corporate News Network.