SINGAPORE, June 20, 2014 - (ACN Newswire) -

CommunicAsia2014, EnterpriseIT2014 and BroadcastAsia2014 Asia's most established ICT, broadcast and digital multimedia trade events took attendees on a revolutionary journey with the most hi-tech technologies that will power the future in a smarter and more connected living environment, while also providing a glimpse into the latest state-of-the-art solutions in digital entertainment.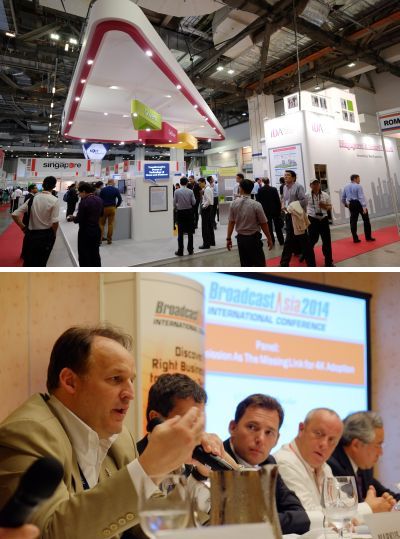 Enabling Technologies for a Smart Nation Stole the Limelight at CommunicAsia2014, EnterpriseIT2014 and BroadcastAsia2014


The more than 50,000 attendees at the four-day event at Marina Bay Sands, Singapore, set the stage for meaningful interaction with the world's leading ICT and broadcasting companies as well as technology upstarts. They also experienced the newest technology launches and heard the latest business announcements from nearly 2,000 exhibitors from more than 50 countries/regions across the world. The shows' three conferences drew more than 1,300 attendees, with industry luminaries sharing with delegates their views on hot and trending topics.

"We are extremely pleased with the buzz this year's shows have generated. By bringing together industry leaders in connected services and digital entertainment, we were able to offer our attendees a truly immersive experience to enable them to adopt the most relevant and effective technological choices for their businesses. The end-to-end spectrum at CommunicAsia, EnterpriseIT and BroadcastAsia showcased government frameworks, technological breakthroughs and commercial applications, all under one roof. This is what attracts our conference speakers and delegates, exhibitors, visitors and press to our shows every year," says Mr. Stephen Tan, Chief Executive of show organiser, Singapore Exhibition Services.

- Smart Technologies, Internet of Things and Mobile Services Topped CommunicAsia2014 and EnterpriseIT2014

Visitors were excited to try out the smart home security systems, smart bed, smart T-shirt and smart plates and forks that were powered by RFID, sensors and the Internet of Things. Mobile payments solutions from companies like Nexperts, Poket and Unitronic demonstrated innovations in mobile wallets payment. A wearable fitness tracker from Oaxis, a home mobile diagnostic kit from BioSenze and a remote child speech pathology solution from NICTA also made a splash, generating several business enquiries for the companies.

CommunicAsia2014 and EnterpriseIT2014 provided a launch platform for several other exciting new products including Huawei's thinnest flagship Ascend P7 smartphone and RugGear's rugged smartphones, Mariner Pro RG100 and iSafe Innovation 2 for use in harsh environments.

"CommunicAsia is a fantastic place for us to meet key players in the region and show the full range of innovations that service providers and consumers expect from Technicolor. We put a strong emphasis on middleware, Wi-Fi, smart life solutions, 4K Ultra HD, that can greatly enhance the home experience for the viewer by delivering value-added services. We also showcased new applications built on our Qeo open source solution for connecting a multitude of devices to the Internet of Things; a future that is unfolding for the consumer today," said Mr. Michel Rahier, President Connected Home, Technicolor.

Mr. Steve Christian, Vice President Marketing, Verimatrix who has been exhibiting at the shows for more than five years said, "CommunicAsia is the best option as a regional hub for us to reach out to customers and partners across APAC. It enables us to execute three of our business objectives most efficiently: customer deployments, partner relationships and new products showcase. We are very pleased with the number of meetings we had."

Other leading companies in the CommunicAsia and EnterpriseIT showcase included Airwatch, Dell, Ericsson, GlobeCast, Huawei, Irdeto, Panasonic Toughbook, Sennheiser Electronic Asia, SingTel Satellite, ST Electronics, Tata Communications, Tektronix, Toshiba and more.

The Myanmar Connect event received an encouraging response from visitors interested in learning more about investing in the country's newly-opened telecoms sector from Myanmar's ICT flagship company RedLink Communications as well as Singapore legal eagle Rajah & Tann's Myanmar practice experts.

- New Business Deals and Solutions in the Satellite Industry

On the back of several recent industry developments, Asia's largest gathering of more than 160 satellite players at CommunicAsia2014 made significant announcements and led the industry discussion. NovelSat's new NS3-based enhanced and secure satellite transmission solutions, Thaicom's inflight Wi-Fi deal with NOK Air, and Eutelsat's partnership with Singapore's ST Teleport's earth station to provide a new gateway that brings faster and more scalable connections for data, maritime, media and entertainment sectors - are some of the key developments that unfolded at CommunicAsia2014.

Commenting on the show, Mr. Deepak Mathur, Senior Vice President, Commercial, Asia-Pacific & Middle East, SES said, "We have exhibited at CommunicAsia for more than a decade, and it has remained a fixture for SES because it brings together our customers and partners from across the region in a single location. CommunicAsia gives us the opportunity to do what we do best - that is to grow with our customers by listening to them and addressing their specific needs with the power of satellite communications."

"CommunicAsia is a fabulous trade show that has all the products and services I need under one roof. It enables to keep up with the trending technologies and connects me with the industry," said Mr. Henry Pang, Vice President of Information Technology, Star Cruise Pte Ltd, Singapore.

"CommunicAsia has been the top ICT trade show which I always make the effort to attend. Over the years, the show has matured with more exhibitors and product/service categories. I have also seen more SMEs which is a very good sign as that means I will have more choices to source from. CommunicAsia is a must-attend event for me," said Mr. Mashrique Ismail, CEO, Netshoppe Sdn Bhd, Malaysia.

- 4K Ultra HD and OTT Highlights at BroadcastAsia2014

Coinciding with the world's most viewed sporting event, the 2014 FIFA World Cup, BroadcastAsia2014 showcased the latest and best in 4K/UltraHD content acquisition, production and delivery; multi-platform screening; social TV; immersive TV experiences; cloud broadcasting; new business models for Pay OTT; and much more.

Grass Valley demonstrated the industry's first prototype three-sensor LDK 4K camera with 4B lens mount for capturing live sport in 4K; taking production to the next level, RED Digital Cinema, featured its highly anticipated technology in 5K and even 6K; and Conax showcased its entry-level OTT Access solution and Conax Go Live solution for live streaming of TV content to mobile devices.

Other industry leaders that made their mark at BroadcastAsia2014 included Blackmagic Design, Canon, EVS, GoPro, Panasonic, RED Digital Cinema, Sony and more.

"The past four days have been a great opportunity for Sony to talk to existing and potential customers, and show them our latest 4K and HD solutions for broadcasters and content creators. We look forward to future editions of BroadcastAsia, and believe that it can only get more exciting from here!" said Mr. Chris Grey, General Manager, Broadcast & Content Creation Solutions, Sony Professional Asia Pacific.

"BroadcastAsia is a comprehensive show showcasing up-to-date technologies. This is a great platform to source for products. The show is well-represented with a good variety of international brands from around the world. I will definitely recommend others to visit the show, and will be back again next year," said Atty. Gerik Caesare A. Paderanga, President / General Manager - Cebu North, Cebu Cable, Philippines.

- Panel Discussions and Case Studies Lead Industry Discussions

The three conferences, CommunicAsia2014 Summit, BroadcastAsia2014 International Conference and the Creative Content Production Conference highlighted the most pertinent trends and challenges faced by the ICT and digital media sectors.

With a large number of case studies and panel discussions, delegates at the conferences took away actionable insights to help them adopt the latest technologies and improve efficiencies to stay profitable as consumer demands evolve.

The Visionary Address opened to a packed audience of delegates eager to hear the latest trends in social media from Twitter. "Asia will lead the next exciting growth phase for social media that will transform our lives, businesses and societies. CommunicAsia and BroadcastAsia play key roles to drive this change by bringing leaders from the tech, mobile and broadcast industries together to embrace the power of social media, discuss breakthrough ideas and collaborate on next-generation technologies," said Ms. Aliza Knox, Managing Director, Online Sales, Twitter Asia Pacific and visionary keynote speaker at CommunicAsia2014 Summit.

CommunicAsia2014 Summit's tracks on Big Data Analytics, BYOD/CYOD, Mobile Banking, Payments and Wallets were a key attraction, while OTT Content Strategies, Cloud Broadcasting and Second Screen tracks saw increased attention at the BroadcastAsia2014 International Conference. The Creative Content Production Conference sessions on understanding Asian viewers' current demands, trans-media strategies, case studies on popular film locations and recent 4K film projects received wide appreciation.

CommunicAsia, EnterpriseIT and BroadcastAsia will return to Marina Bay Sands Singapore from 2 - 5 June 2015.

You may download event photos from this link:
https://www.dropbox.com/sh/idqosmwqlrqqa3g/AAAuLwUI4VrebnLpPsxIm-ZOa

Contact:

June Seah / Patricia Yee
Singapore Exhibition Services
Tel: +65 6233 6621 / +65 6233 6637
Email: june.seah@sesallworld.com / patricia.yee@sesallworld.com

Topic: Trade Show or Conference

Source: CommunicAsia
Sectors: Film & Video, Media & Marketing, Consumer Electronics, Broadcast, Film & Sat
https://www.acnnewswire.com
From the Asia Corporate News Network
Copyright © 2023 ACN Newswire. All rights reserved. A division of Asia Corporate News Network.