| | |
| --- | --- |
| Friday, 17 April 2015, 19:30 HKT/SGT | |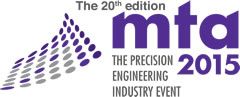 Source: MTA2015



SINGAPORE, Apr 17, 2015 - (ACN Newswire) -

As the industry undergoes a restructuring and gears itself towards high value-added and high-tech production, companies are confronted with a pressing need to rise above traditional boundaries, by embracing new technologies and acquiring new knowledge.

In keeping abreast with current industry trends and newest technological innovations, MTA2015, which came to a close today, provided an ideal platform for Asian companies to access the latest high-tech precision engineering and machine tool technologies available in the global marketplace.

Technologies for 3D printing and robotics have been earmarked by the government as the future of manufacturing. At MTA2015, exhibitor showcases dedicated to demonstrate these capabilities were extremely well-received. In addition, equipment and solutions designed to cater to high-value sectors of Aerospace, Automotive and Oil & Gas sectors were also highly sought after.

Flexspeed Technology is one such exhibitor showcasing solutions catered for the Oil & Gas sector. Commenting on the event, the director, Mr. K. Balanagendra Rao said, "MTA is a very good platform where our existing and potential customers can come and see the new technologies and where we present new ideas, especially for those in the aerospace and oil and gas industries. We sold some machines for the oil and gas industry where the technology used is very important for the sector. We are very pleased with the results."

3D printing and robots in the spotlight

The 3D Printing Technology tours were very popular with attendees and highlighted the flexibility of the technology for applications across industries such as aerospace, automotive and oil and gas. Creatz3D, DKSH Technology, EOS, Eye-2-Eye Communications and Renishaw were some exhibitors who shared their expertise in the field with visitors. Besides displaying a model tilted rotor airplane and a concept car, academic institutions - the Additive Manufacturing Innovation Centre (AMIC) at Nanyang Polytechnic (NYP) and the Singapore Centre for 3D Printing at Nanyang Technological University (NTU), also showcased products that were wholly 3D printed from materials such as metal.

"3D printing technology has advanced over the years and there is great potential for its adoption in Asia. The focus on 3D printing at MTA has certainly helped to generate and increase awareness of the latest advances in the technology. We are pleased to be a part of the 3D printing technology tours that were organised at the event. These have added another dimension to the event and enlivened the knowledge sharing and business collaboration aspects," remarked Mr. Steve Bell, General Manager - ASEAN of Renishaw (Singapore).

Mr. Louie T. Fuster, Board of Director from the Philippine Die & Mold Association Inc (PDMA), who led a group delegation to MTA2015, highlighted the 3D printing aspects of the event and said, "PDMA is happy with our group delegation visit to MTA2015 this year. It was time well-spent as our delegates were able to see the latest technologies in the market and met new suppliers from Germany and UK. In particular, the group was especially impressed with the showcase of 3D printing technology by industry leaders. We have learnt much from our trip this time and wish that we had more time to interact with the exhibitors. We hope to visit again in 2017."

With demonstrations almost every hour, robots from ABB, Epson and Yaskawa had the show floor buzzing with excitement. Attendees got a first-hand experience of ABB's welding robot, whilst Epson and Yaskawa showcased the precision of their robots, which were programmed to scan items and pick these up in a fraction of the time it takes humans to do. The demonstrations provided attendees with opportunities to expand their knowledge about robotic solutions and how these can enhance productivity for manufacturers.

Elaborating on the solutions, ABB's Mr. Ang Boon Hua, Local Business Unit (LBU) Manager, Robotics of the Discrete Automation and Motion Division said, "Robots improve productivity by enabling manufacturers to redeploy or upgrade their workforce, and we see the business potential for the Asian manufacturing industry. MTA is a timely platform for us to share our knowledge with manufacturers as well as enhance our business networks with partners and potential customers from the region."

Resource platform for industry players

MTA was also a premier sourcing ground for many industry visitors who came to seek out the latest technologies available. Deals were made, with "Sold @ MTA" signs prominently displayed on many machines and equipment from exhibitors such as Hong Chek, Ichi Seiki, Metalis, NPC, Taipei Industries and Tsugami Universal. Exhibitors were also seen busy networking with attendees at their booths and the discussion areas set up to facilitate meetings.

"Previously, I should say MTA was like a machine tool supermarket where we display machines and look for buyers to close the order. But since 2013, the show has evolved, and the exhibits and machines showcased follow market requirements very closely. You can see machines on the show floor that are relevant to the aerospace, as well as oil and gas industries. We see many new machines at MTA this year. At Ichi Seiki, we saw the trend and brought in the full five-axis machine, which enables simultaneous cutting and can be easily automated to enhance efficiency and productivity. The machine caters not only for oil and gas, but also for the high-end moulds for the aerospace sector. I can see that the exhibitors and organiser have put in a lot of effort to make the event even more relevant to market requirements and future needs," commented Ms. Jane Low, Executive Director of Ichi Seiki, Singapore.

"This is the first time I am attending MTA. I think it is quite interesting and good to be able to see most machine suppliers under one roof, where we can meet more people and increase our knowledge. The equipment showcased is all updated and most of them use very advanced technology which we have never heard of, and we were surprised that this technology can help us and that is an eye-opener for us. We bought a machine from Flexspeed at MTA and we are looking at buying more machines from other suppliers as well. I think MTA is a very knowledgeable and resourceful event," said Mr. Dwaraka Malekar, Procurement Manager of Tech Offshore Marine, Singapore.

Mr. Sonny Nizam, Assistant General Manager from Calsonic Kansei Malaysia added, "I came to MTA2015 to look at new technologies and find out what is available in the market. We found many machine makers, including DMG Mori, and were pleased that MetrologyAsia featured the latest equipment. The exhibition also gave me the opportunity to meet our existing suppliers and source for new ones. We currently get our micrometers from Japan, but managed to find a new supplier from Singapore at MTA2015!"

Over 20 group delegations from Indonesia, Malaysia and Singapore attended MTA2015. Groups from the Federation of Malaysian Foundry and Engineering Industries Associations, GE Aviation, Rolls Royce, Pratt & Whitney, amongst others, were at the event to check out the technologies and solutions available.

Mr. Lee Ah See, President of the South Johor Foundry & Engineering Industries Association (SJFEIA) said, "MTA2015 is well-organised and has a good representation of exhibitors including group pavilions from Germany, Korea, Singapore, Taiwan and United Kingdom. Besides the key industry manufacturing solutions providers, our members also had a chance to source from new exhibitors who cater to their engineering and machining needs. The association has always made it a point to form group delegation to visit the MTA exhibition and will continue to support the next edition."

"Every edition of MTA has followed and highlighted industry trends relevant to Asian manufacturers and this edition is no different. We brought in exhibitors who showcased the latest innovation in 3D printing and robotics that will enhance productivity and efficiency. The technologies that MTA spotlights will certainly enable local and regional companies to move up the manufacturing value chain," said Mr. William Lim, Project Director for machinery events at Singapore Exhibition Services, organiser of MTA2015.

Knowledge sharing with industry thought leaders

Featuring case studies on digital manufacturing, Industrie 4.0 and industrial automation, the inaugural "Future Factories and Manufacturing Asia Conference", provided in-depth knowledge and insight into the evolving business and industry landscape for Asian manufacturers.

Ms. Mazwin Mohd Rosli and Ms. Rozanatul Taneah Binti, managers at Tenaga Switchgear, Malaysia commented, "We were impressed with the excellent organisation of the show! We came to look for solutions that can be applied in Tenaga, and found products that were relevant to our business. We were keen on the assembly parts that were showcased at MTA2015, and met up with some potential suppliers such as Bilfort Industries, Cairnhill Metrology and Expresso System Technology for tooling and machining products. In addition, we are also exploring partnerships with some of the fabricators and CNC exhibitors who are looking for subcontractors. The Future Factories & Manufacturing Asia conference was interesting and we were able to gain insights on the technologies and solutions that other companies in the industry are using."

More than 12,000 attendees from 41 countries/regions, including trade visitors, exhibiting staff, conference delegates and speakers, and members of the press visited MTA2015. The next edition of MTA will be held from 4 to 7 April 2017 at the Singapore Expo.

Contact:

Juliet Tseng
Assistant PR Manager
Singapore Exhibition Services
Tel: +65 9687 6657
Email: Juliet@sesallworld.com 

June Seah
PR Manager 
Singapore Exhibition Services
Tel: +65 9852 6756  
Email: june.seah@sesallworld.com

Topic: Trade Show or Conference

Source: MTA2015
Sectors: Design Process, Engineering
https://www.acnnewswire.com
From the Asia Corporate News Network
Copyright © 2022 ACN Newswire. All rights reserved. A division of Asia Corporate News Network.