HONG KONG, June 16, 2015 - (ACN Newswire) -

China Everbright Limited ("CEL", Stock Code: 165.HK) announced that its RMB Mezzanine Fund has jointly invested with the Aviation Industry Corporation of China (AVIC), AVIC Capital and COFCO Trust Co., Ltd in AVIC Precision Casting Science and Technology Co., Ltd ("AVIC Precision"). The establishment ceremony was held in Beijing earlier in June. CEL's RMB Mezzanine Fund, through its set-up of special investment vehicle, holds 20.7% stake in the company. As the lead investor, CEL's RMB Mezzanine Fund will provide significant added values to the establishment and enhancement of AVIC Precision's corporate governance and institutionalised management mechanisms.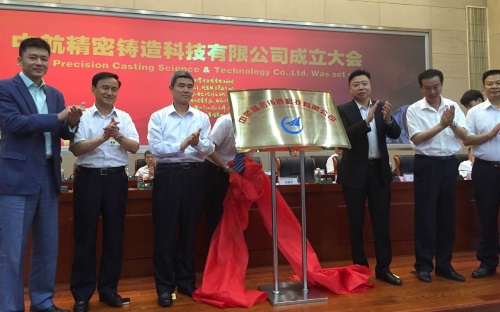 China Everbright Limited's RMB Mezzanine Fund Enters into Joint Investment in AVIC Precision Casting Science and Technology Co., Ltd


Attendees of the establishment ceremony include Mr. Henry Tao, Managing Director of CEL's Capital Investment and Financing Department; Mr. Ben Lu, Managing Director of CEL's RMB Mezzanine Fund; Mr. Xiandong Wu, Deputy General Manager of AVIC; Mr. Wei Pang, General Manager of AVIC Engine; and other shareholders. Mr. Zuoming Lin, Chairman of the Board of AVIC, and Mr. Shuang Chen, CEO of CEL, offered their congratulations on the establishment of AVIC Precision.

The continuous development of China's aviation industry has created an urgent need for the upgrading and replacement of aircraft engines. By adhering to its strategic focuses of "market-oriented reform, professional integration and capitalistic operations", AVIC has restructured its engine vane casting business to concentrate resources on the promising growth market. By enhancing its level of professionalism and upgrading its industrial development capabilities, AVIC Prevision is well-positioned to develop advanced aircraft engine and combustion engine components with international standard.

This investment of CEL's RMB Mezzanine Fund demonstrates a successful example of "SOE restructuring" via introducing external investors and restructuring their businesses into a mixed-ownership model, which is a rising trend supported by the Chinese government. In addition, it signifies an expanded partnership between AVIC and CEL, broadening the area for collaboration between the two companies.

About China Everbright Limited
China Everbright Limited ("CEL", stock code: 165.HK) has woven huge cross-border social and business networks in Hong Kong and the Mainland. CEL, being a member of China Everbright Group, is a diversified financial services enterprise operating in Hong Kong and Mainland China. It is the second largest shareholder of Everbright Securities (stock code: 601788.SH) and third largest shareholder of China Everbright Bank (stock code: 601818.SH, 6818.HK) in the Mainland.

Established in 1997 at Hong Kong, CEL persistently pursues its "Macro Asset Management" strategy, with specific focuses being placed on fund management and investment businesses, namely Primary Market Investment, Secondary Market Investment and Structured Financing and Investment.

Moreover, being a substantial shareholder of China Aircraft Leasing Company Limited, CEL is actively developing aircraft leasing business in China and emerging markets. In addition, by leveraging the advantages in cross-border fee-based business of an associate, Everbright Securities, CEL also participates in the development of investment banking (corporate financing) and brokerage services (wealth management) businesses in Hong Kong.

Over the past years, CEL has developed solid bases in various sector markets. It manages series of private equity funds, venture capital funds, sector focus funds and hedge funds as operated via an international management platform, and provides overseas investors with opportunities to explore and invest in companies with fast growing potential in the Mainland China. On the other hand, CEL also seeks investment opportunities from overseas and provides diversified financial services for its clients in Mainland China. As of 31 December 2014, CEL's asset under management reached over HK$50.3 billion, with a total of 24 funds.

Through upholding the philosophy of "Making Wealth Simple", CEL leverages on its own substantial financial strength, as well as the position and influence of China Everbright Group and its affiliated companies in the financial industry in China, and has successfully built huge cross-border social and business networks in Hong Kong and the Mainland, and established a reputable image in the market. For more information on CEL, please visit www.everbright165.com

For enquiries, please contact:
Golin
Annie Leung
Tel: +852 2501 7918
Fax: +852 2810 4780
Email: aleung@golin.com

Max Lau
Tel: +852 2501 7905
Fax: +852 2810 4780
Email: mlau@golin.com

Topic: Press release summary
Source: China Everbright Ltd
Sectors: Daily Finance
https://www.acnnewswire.com
From the Asia Corporate News Network



Copyright © 2023 ACN Newswire. All rights reserved. A division of Asia Corporate News Network.