HONG KONG, May 24, 2016 - (ACN Newswire) -

China Everbright Group and China Everbright Limited ("CEL", stock code: 165.HK) are pleased to announce the successful acquisition of the Dah Sing Financial Centre commercial building, located in Hong Kong at 108 Gloucester Road, Wan Chai. The transaction was concluded during a handover ceremony held today at Dah Sing Financial Centre and attended by China Everbright Group, CEL and the SEA Group. Tang Shuangning, Chairman of China Everbright Group, also made a special trip to Hong Kong to attend the ceremony in person.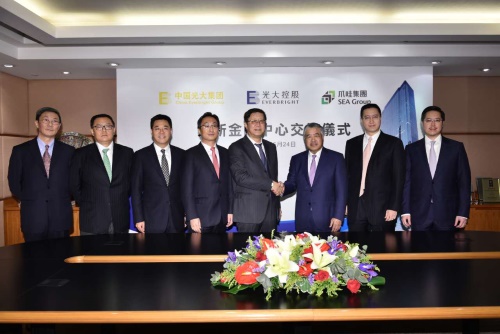 left-right: Yang Bin, General Manager, Investment Management Department of China Everbright Hong Kong; Liu Jia, Deputy General Manager of China Everbright Hong Kong; Chen Shuang, Executive Director and CEO of China Everbright Limited; Liu Jun, Deputy General Manager of China Everbright Group; Tang Shuangning, Chairman of China Everbright Group; Lu Wing Chi, Jesse, Chairman and Managing Director of SEA Group; Lincoln Lu, Executive Director of SEA Group; Lambert Lu, Executive Director of SEA Group


China Everbright Group and CEL acquired the property from the SEA Group through a joint venture 83.33 per cent owned by China Everbright Group and 16.67 per cent owned by CEL. The property, acquired for a consideration of around HK$10 billion, will be held as a long-term investment and retained by Everbright for its own use as offices, with any remaining space to be leased to other tenants.

In recent years, Everbright continues to grow and expand. In 2015, China Everbright Group entered the Fortune Global 500 list for the first time. Its total assets under management reached RMB3.5 trillion with an annual profit of RMB53 billion - both of which demonstrate leading achievements amongst peers. China Everbright Group's operating results also achieved record highs to become a financial holding group in possession of a number of leading enterprises and brands. This acquisition meets Everbright's growth needs, as well as its strategy of pursuing sustainable development in Hong Kong. It also shows Everbright's confidence in Hong Kong's future development. Everbright added that it is optimistic about the prospects of commercial properties in Hong Kong, given the on-going lack of supply in the city's core business district and also the rarity of en-bloc sales of commercial buildings in the market.

Dah Sing Financial Centre, is a 38-storey grade A commercial building with a total gross floor area of more than 400,000 square feet (37,000 square metre). It is located in a core area of Hong Kong's central business district, lies adjacent to important government service and commercial facilities such as Revenue Tower, Immigration Tower and the Hong Kong Convention and Exhibition Centre. Its current occupancy rate is over 90 per cent.

About China Everbright Group

The China Everbright Group was founded in Hong Kong in May 1983 as a key state-owned enterprise managed by the Central Government. As one of the windows to the outside world during China's economic reforms, the Hong Kong-based corporation is positioned to serve the Mainland while establishing a presence in overseas markets. It has made important contributions to the Mainland's economic development and reforms, to economic exchanges between the Mainland and Hong Kong, and to Hong Kong's prosperity and stability. The Group has grown into a vast conglomerate with operations in the banking, securities, insurance, asset management, trust and industrial investment sectors.

The Group's Mainland companies primarily include financial institutions such as China Everbright Bank, (stock codes: 601818.CN, 6818.HK), Everbright Securities Co., Ltd. (stock code: 601788.CN), Sun Life Everbright Life Insurance Co., Ltd., Everbright Financial Holding Asset Management Co., Ltd. and Everbright Xinglong Trust Co., Ltd. It also holds interests in industrial companies such as China Everbright Industrial (Group) Co., Ltd., China Everbright Investment Management Corp., the Shanghai Everbright Convention & Exhibition Center and Everbright Property Management Co., Ltd. The Group's companies in Hong Kong cover financial services, environmental and property investment companies such as China Everbright Limited (165.HK), China Everbright International Limited (257.HK), Capital Century Company Limited, EBS International, China Everbright Bank (Hong Kong Branch) and CEB International.

As at the end of 2015, the Group had approximately RMB3.5 trillion in total assets under management, an annual pre-tax profit of RMB53 billion and more than 50,000 employees. It is a competitive, innovative and sustainable financial group that enjoys tremendous influence in both the Mainland and Hong Kong.

For more details about China Everbright Group, please visit www.ebchina.com.

About China Everbright Limited

China Everbright Limited ("CEL", stock code: 165.HK) was established at Hong Kong in 1997, CEL persistently pursues its "Macro Asset Management" strategy, with specific focuses on cross-border asset management and investment business. Over the past years, CEL manages series of private equity funds, venture capital funds, sector focus funds, mezzanine funds, hedge funds and principal investment as operated via an international management platform, and provides overseas investors with opportunities to explore and invest in companies with fast growing potential in Mainland China. On the other hand, CEL also seeks investment opportunities from overseas and provides diversified financial services for its clients in Mainland China. As of 31 December 2015, CEL's total fundraising scale reached over HK$49 billion, with a total of 31 funds.

China Everbright Limited, being a member of China Everbright Group, is the second largest shareholder of Everbright Securities (stock code: 601788.SH), a strategic shareholder of China Everbright Bank (stock code: 601818.SH, 6818.HK), the single largest shareholder of the Hong Kong-listed China Aircraft Leasing Group Holdings Limited (stock code: 1848.HK) and the second largest shareholder of the Singapore-listed Ying Li International Real Estate Limited (stock code: 5DM. SGX).

After the launch of "Shanghai-Hong Kong Stock Connect" on 10 April 2014, CEL becomes one of the first batch of specific stocks listed on The Stock Exchange of Hong Kong which can be directly traded by Mainland investors.

Through upholding the philosophy of "Making Wealth Simple", CEL leverages on its own substantial financial strength, as well as the position and influence of China Everbright Group and its affiliated companies in the financial industry in China, and has successfully built huge cross-border social and business networks in Hong Kong and the Mainland, and established a reputable image in the market.

For more information, please visit www.everbright165.com.

For enquiries, please contact:
Golin
Jackie Cheung
Tel: +852 2501 7901
Email: jcheung@golin.com

Max Lau
Tel: +852 2501 7905
Email: mlau@golin.com


Topic: Press release summary
Source: China Everbright Ltd
Sectors: Daily Finance, Daily News
https://www.acnnewswire.com
From the Asia Corporate News Network



Copyright © 2023 ACN Newswire. All rights reserved. A division of Asia Corporate News Network.