- Distribution per unit went up 15%;
- Three Garden Road: entering a harvesting stage;
- Completion of refinancing: lower effective interest rate



HONG KONG, Aug 9, 2016 - (ACN Newswire) -

Champion Real Estate Investment Trust (stock code: 2778), the owner of Three Garden Road and Langham Place, announces its financial results for the six months ended 30 June 2016.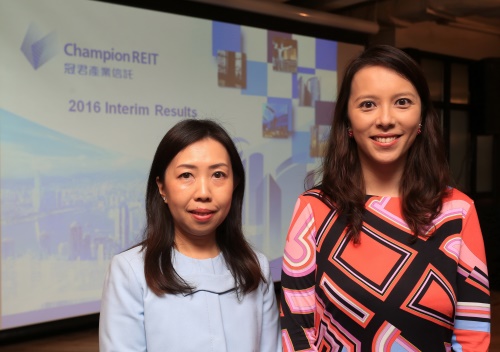 (Right) Ms. Ada Wong, Chief Executive Officer and Chief Investment Officer; (Left) Ms. Amy Luk, Investment and Investor Relations Director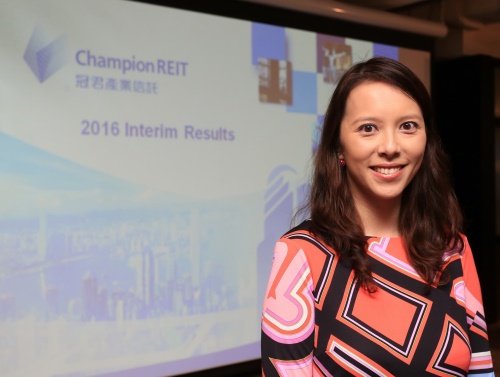 Ms. Ada Wong, Chief Executive Officer and Chief Investment Officer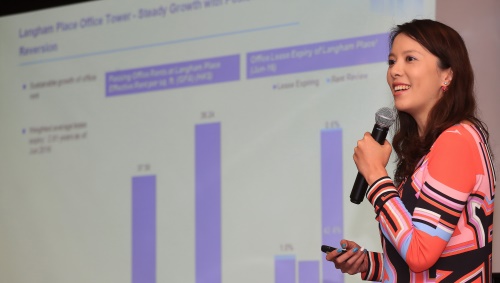 Ms. Ada Wong, Chief Executive Officer and Chief Investment Officer


Overview
For the first half of 2016, Champion REIT recorded solid growth in rental income and distribution per unit by 12.2% and 14.9% year-on-year respectively. Three Garden Road was the key driver for the growth, as the property enters the harvesting stage.

Three Garden Road
The previous Citibank Plaza was renamed as Three Garden Road on 28 June 2016.Rental income of the property achieved an impressive growth of 22.2% to HK$567 million. Occupancy further improved to 95.1% as at 30 June 2016 from 91.2% as at 31 December 2015. The latest achieved rents have stood above HK$100 per sq. ft. (based on lettable area), markedly higher than the existing passing rent at HK$76.59 per sq. ft.

Langham Place Mall
The retail market has entered a trough period despite that positive rental reversion in base rents has continued. Rental income of the Mall recorded a mild increase of 3.2% to HK$397 million in the first half and the growth in base rent portion has compensated the decline in turnover rent.

While the Mall was affected by the downward trend as tenants' sales dropped 6.4% in the first six months of the year, the Mall still outperformed the market. Langham Place Office Tower Total rental income from Langham Place Office continued to go up with an increase of 4.5% to HK$159 million recorded for the first half of the year, mainly attributable to positive rental reversion when the office building remained fully occupied. The property continued to be a popular choice for lifestyle segments for expansion and relocation.

Outlook
We are expecting the harvesting stage of Three Garden Road to sustain in the second half of 2016 as major leases committed in 2015 will have a full-year impact this year. The lack of new supply of upscale offices in Central should continue to be favourable for landlords.

The base rent of Langham Place Mall should maintain a slight growth in 2016. The outlook for next year may be at risk given the uncertainties in retail market and the general economy. To keep up the attractiveness of the Mall, a number of marketing campaigns will be rolled out and new tenants will be introduced, such as the first LEGO Store in Hong Kong.

The savings in interest margin from refinancing arrangement has lowered effective interest rate to 1.7% as at 30 June 2016, which should provide potential upside for the bottom line in the current low-interest rate environment.

Distribution
Distributable Income for the first half delivered a growth of 15.2% to HK$705 million, largely due to increase in net property income from Three Garden Road. DPU increased by 14.9% to HK$0.1096. The annualized distribution yield is 5.3% based on the closing price of HK$4.38 as at 30 June 2016.

Asset Value
The appraised value of the Trust's properties was HK$66,160 million as at 30 June 2016, an increase of 2.1%, mainly due to slightly higher rent rate assumptions. Net asset value per unit was HK$8.62 as of 30 June 2016, increased by 2.6%. At a unit price of HK$4.38, the discount to net asset value is 49.2%.

Contact:

Strategic Financial Relations Limited 
Vicky Lee    Tel: 2864 4834  Email: vicky.lee@sprg.com.hk 
Cindy Lung   Tel: 2864 4867  Email: cindy.lung@sprg.com.hk 
Angel Li     Tel: 2864 4859  Email: angel.li@sprg.com.hk 
Website: www.sprg.com.hk  

Topic: Press release summary

Source: Champion REIT
Sectors: Daily Finance, Daily News
https://www.acnnewswire.com
From the Asia Corporate News Network
Copyright © 2022 ACN Newswire. All rights reserved. A division of Asia Corporate News Network.