| | |
| --- | --- |
| Friday, 3 November 2017, 17:00 HKT/SGT | |


Source: HKTDC
Latest Smart Lighting Trends Spotlighted at HKTDC Fair Seminar



HONG KONG, Nov 3, 2017 - (ACN Newswire) -

Combining the Internet of Things (IoT) and lighting is an emerging trend with strong market potential, according to speakers at a seminar held during the HKTDC Hong Kong International Lighting Fair (Autumn Edition) 2017.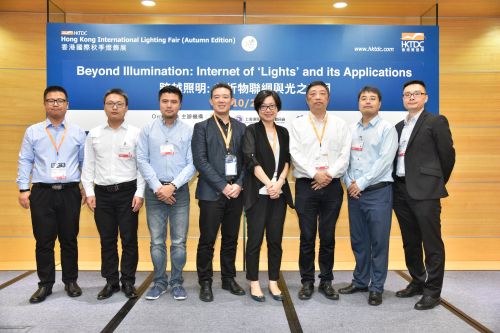 Leading experts from the lighting industry share the latest developments in smart lighting at the "Beyond Illumination: Internet of 'Lights' and its Applications" seminar, held on 28 October during the HKTDC Hong Kong International Lighting Fair (Autumn Edition).


At the "Beyond Illumination: Internet of 'Lights' and its Applications" seminar, co-organised by the Hong Kong Trade Development Council (HKTDC), Shanghai Pudong Intelligent Lighting Association and Smart Lighting 40 Forum, leading industry professionals and experts shared their insights on the latest developments and future direction of the lighting industry.

Standardisation promotes smart lighting development

According to Lighting Dai, Secretary-General of Shanghai Pudong Intelligent Lighting Association Secretary General, energy-efficient LED lighting products have evolved to smart lighting over the past decade, with tailor-made options the latest trend. He noted that the Chinese mainland's lighting market expanded by more than a double from Rmb50.4 billion in 2000, and is expected to hit Rmb600 billion in 2017. "The industry expects that the market may reach Rmb1trillion in five years' time," said Mr Dai.

He added that the emerging trend offers opportunities and poses challenges as the lighting market enters the IoT era. "Smart lighting products are not really 'smart' if they are isolated, single-function items that cannot be connected with other devices via the Internet due to a lack of a shared technology. And if different manufacturers develop different technologies, there will be no standardisation, which will ultimately suffocate development," said Mr Dai.

To address this issue, the Shanghai-based Association has been organising exchanges between the lighting and technology sectors to foster cross-industry cooperation. The move has resulted in close business relationships being established between players such as Mi and Phillips, as well as Huawei and Opple Lighting. "Through such cooperation, smart lighting has been extended to cover more field, including in the housing, hotel, medical and automobile sectors."

Tuya Chief Operating Officer Alex Young agreed that one-stop solutions - connecting various products and vendors to a single platform - were an emerging trend. "Such a platform must be compatible with different protocols, such as WiFi ad Bluetooth, for different regions. Above all, the devices and services on this single platform must be encrypted," he said. "Cross-industry collaboration, integration and adaptation are key to the long-term global IoT development, and will minimise market confusion."

Widening IoT applications

"By 2020, the global IoT market is expected to reach US$1.7 trillion, with China contributing US$300 billion," said Richard Xu, Vice President of Lenovo Connect. With the rapid development of IoT around the world, he predicted that all devices will be embedded with LTE-5G functions for IoT implementation in future.

Explaining the beauty of combining lighting and IoT, Mr Xu said: "Take smart street lighting as an example, not only is it energy-efficient, it can also collect data and issue safety warnings." He noted that Lenovo's Narrow Band IoT network focuses on applications for shared economy, smart traffic, new retail, consumer electronics, smart finance and smart government affairs in the mainland market.

AI, Big Data and Cloud

At the seminar, Tencent Smart Device Open Platform Product Manager Carlos Qian quoted company founder Pony Ma saying, "The future is about having AI (artificial intelligence) deal with Big Data on the cloud." He added that smart platforms must offer a diverse experience for users. "For example, Tencent's services range from education and music to live-chat functions, karaoke and Chinese-English bilingual language recognition."

Mr Qian said that AI systems will operate through recognition technology, enabling products to automatically provide the right choices for an elevated user experience. "For example, a music search function could recommend songs based on gender and the occasion."

The importance of user experience was highlighted by other speakers, including Maxwell Liu, MIOT Business Director, Beijing Xiaomi Mobile Software.

Customer data collection in smart retail

Sengled Co Ltd China Region General Manager Nelson Chou explained the concept of "smart retail," citing the example of his company, whose system monitors and analyses data through integrating information collected from smart lighting, music, security-monitoring and sales behaviour through IoT and big data technology, offering customers a brand-new experience.

He said that shop lighting can be controlled to enhance promotions. More importantly, sensors in the lighting system can collect customer data, including gender, time spent at the shop and purchasing behaviour. Through face-recognition technology, the system might even detect arrival of VIPs to further enhance customer relations management.

Organised by the HKTDC, the 19th Hong Kong International Lighting Fair (Autumn Edition) and the second edition of the Hong Kong International Outdoor and Tech Light Expo successfully concluded at the Hong Kong Convention and Exhibition Centre (27-30 October) and AsiaWorld-Expo (26-29 October) respectively. Attracting nearly 55,000 buyers, the twin fairs gathered close to 3,100 exhibitors from 38 countries and regions, forming the world's largest lighting marketplace.

Fair Websites:
Hong Kong International Lighting Fair (Autumn Edition): hklightingfairae.hktdc.com
Hong Kong International Outdoor and Tech Light Expo: hkotlexpo.hktdc.com
Videos: https://youtu.be/rm37P_BFSII

More comments from exhibitors and buyers: http://bit.ly/2iJ1GAX

Contact:

HKTDC
Communication and Public Affairs Department
Banbi Chen
Tel: +852 2584 4525
Email: banbi.yc.chen@hktdc.org

Topic: Trade Show or Conference

Source: HKTDC
Sectors: Electronics
https://www.acnnewswire.com
From the Asia Corporate News Network
Copyright © 2023 ACN Newswire. All rights reserved. A division of Asia Corporate News Network.