KAWASAKI, Japan, Oct 4, 2018 - (JCN Newswire) -

Fujitsu Laboratories Ltd. today announces development of a non-contact, integrated biometric authentication technology that can identify a person using only their palm vein and facial data. Developed jointly with Fujitsu R&D Center Co., Ltd., the technology represents a step closer to the creation of a cashless society. To enable biometric authentication that would confirm a person's identity at brick-and-mortar stores or for admissions at event venues, streamlining searches of a huge volume of registered biometric data - on a scale of one million users -- had required narrowing down the subject person by using cards or other forms of data. Fujitsu has now developed technology that enables a smooth payment procedure in which users only need to hold their hands over a terminal, while the identity of the subject individual is narrowed down by facial image effortlessly captured using the payment terminal and camera set in close proximity. This technology enables wallet-free payments without the need to show IDs, paving the way to a more convenient cashless society. Details on this technology will be announced at the International Conference on Image Processing 2018 (ICIP 2018), held in Athens, Greece, from October 7. It will also be exhibited at CEATEC JAPAN 2018, which will be held at Makuhari Messe from October 16.




Figure 1: Usage scenarios by scale of user numbers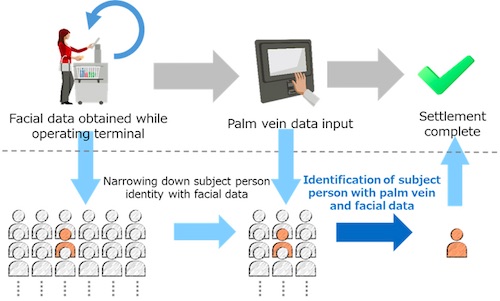 Figure 2: Subject individual's identity authentication flow


Development Background

The importance of authentication and authorization has continued to grow in recent years, and attention is being given to authentication technologies using biometric data in order to avoid the complexity of managing ever-increasing IDs and passwords. In pursuit of greater safety and convenience, there are high expectations for authentication technology that can identify an individual just with biometric data, without the need to show an ID or enter a password, and eliminating the need to carry a wallet.

http://www.acnnewswire.com/topimg/Low_FujitsuBiometricIntegrationTechnology.jpg
Figure 1: Usage scenarios by scale of user numbers

Issues

Palm vein authentication is now commonly used around the world to manage room entry, and to access ATMs as well as individual's PC and other devices. In cases in which several tens of thousands of users' palm veins are registered, such as for ATMs, a card or other information is entered to narrow down the data set for efficient comparison matching. To expand the use of cashless payments at stores, handling a one million-user scale volume requires authentication to take place in a clean, non-contact environment which is also user-friendly.

The Newly Developed Technology

Now, using facial data that can be captured with an off-the-shelf camera, Fujitsu Laboratories has enabled highly convenient authentication without the need to carry a wallet (figure 2).

The new technology has the following features.

1. Extraction technology for high-speed processing of facial features

To precisely identify an individual from an image, it is necessary to build a complex mechanism that can with great accuracy extract facial angles and varying facial expressions, but this requires enormous processing time. Fujitsu has now successfully cut processing size to one-tenth of that offered by conventional technology by developing an algorithm that simply simulates the complex mechanism without compromising its precision. This enables instant processing of sophisticated facial recognition.

2. Biometric authentication technology integrating palm vein and facial data recognition

Facial data captured by a camera while individuals operate a payment terminal is used to narrow down similar groups from databases that have a scale of one million registered users. When actual authentication is needed at time of payment, users in the selected group can be quickly identified simply by holding their palms over payment terminals. In addition, because two forms of biometric data are being used, even if a portion of the vein data is not captured, the data required for authentication can be supplemented with the facial data, increasing the stability of the authentication. Moreover, by separating the processing of the palm vein and facial data, the burden on the authentication server can be alleviated, enabling high-speed processing of the facial comparisons while controlling the increase of required computing resources.

http://www.acnnewswire.com/topimg/Low_FujitsuBiometricIntegrationTechnologyFig2.jpg
Figure 2: Subject individual's identity authentication flow

Results

By using this new technology, real-time authentication can be performed on a scale of one million people without inputting additional personal information, such as with cards or other types of information, while controlling the increase of computing resources needed for the authentication server.

Future Plans

Fujitsu Laboratories aims to make this technology practical within fiscal 2020.

About Fujitsu Laboratories

Founded in 1968 as a wholly owned subsidiary of Fujitsu Limited, Fujitsu Laboratories Ltd. is one of the premier research centers in the world. With a global network of laboratories in Japan, China, the United States and Europe, the organization conducts a wide range of basic and applied research in the areas of Next-generation Services, Computer Servers, Networks, Electronic Devices and Advanced Materials. For more information, please see: http://www.fujitsu.com/jp/group/labs/en/.

Contact:

Fujitsu Laboratories Ltd.
Security Research Laboratory
E-mail: biometric-fusion-2018@ml.labs.fujitsu.com

Fujitsu Limited
Public and Investor Relations
Tel: +81-3-3215-5259
URL: www.fujitsu.com/global/news/contacts/

Topic: Press release summary

Source: Fujitsu Ltd
Sectors: Electronics, Cloud & Enterprise, CyberSecurity
https://www.acnnewswire.com
From the Asia Corporate News Network
Copyright © 2022 ACN Newswire. All rights reserved. A division of Asia Corporate News Network.